Greeting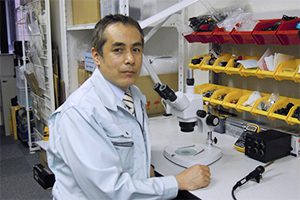 Thank you very much for visiting our website.
I and Shodensha have committed to make our customers ensure on our strictly selected Optical products which MADE IN JAPAN, such as Microscope, with the motto of 【High quality, Low price】.
We are currently contributing to quality improvement and technique innovation in various fields with the concept of 『Viewing』 of Microscope and Stereo Microscope.
We take more efforts, and aim to please our customers with our products. Please feel free to contact us if you have questions, need any suggestion or request on products.
We hope to get your support and advice as always.
President & CEO  Kitagawa Yoshio
About us
Company name
Shodensha (Vietnam) Co., Ltd.
Address

■Ho Chi Minh office
5 Floor, 178/8 Nguyen Van Thuong Street, Ward 25, Binh Thanh District,
Ho Chi Minh City

■Hanoi office
Room 1505, F15, No.324, Tay Son Street, Nga Tu So Ward, Dong Da District, Hanoi City, Vietnam

TEL

028-3911-2006

Japanese Direct Line (Obara) 09 3886 7971
Ho Chi Minh Direct Line (Ha) 09 3134 0003
Hanoi Direct Line (Phong) 09 3133 0002

FAX

028-3911-2007
History
| | |
| --- | --- |
| October 2016 | Shodensha Vietnam Co., Ltd. is established. |
| October 2016 | Shodensha Vietnam Co.,Ltd. and Shodensha, Inc. exhibited Microscopes METALEX Vietnam 2016. |
Staff Introduction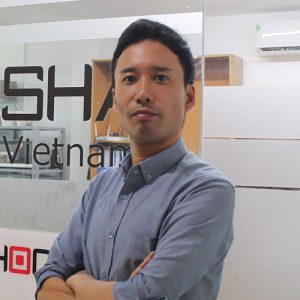 My name is Obara, Director of Shodensha Vietnam Co.,Ltd.
Thank you very much for visiting our company website.
Please feel free to contact us if you feel worry about buying Microscope, Stereo Microscope or any optical products.
I will introduce you the product suited your way of use, whether it is displayed on our website or not.
We are also support by Japanese, Vietnamese and English language, so if you have any inquiry about our products, please feel free to inquire.
Thank you very much.
Access Map
About Headquater (Japan)
Headquarter(Japan)
Shodensha,Inc
Zip codes: 530-0028
Naniwa Bld. 703, 4-12, Banzaicho, Kita-ku, Osaka-shi,
Osaka Prefecture, Japan.
TEL (+81)6-6364-3000 FAX (+81)6-6364-3311
HP
http://www.shodensha-inc.co.jp/
Capital
10,000,000 Yen
History of Shodensha, Inc.
| | |
| --- | --- |
| October 2004 | Participated in business support program of Osaka SMEs support center, set temporary office in Osaka Industrial business Building |
| April 2005 | Finished Support program, moved office to Toyosaki, Kita-ku, Osaka |
| May 2005 | Be introduced on magazine "b-platz May issued" published by SMEs Support Center, Osaka |
| September 2005 | Exhibited Microscope in Shanghai Exhibition (China) 12th – 16th September (MICONEX 16th) |
| September 2006 | Open store on Rakuten website, and start selling on internet |
| December 2007 | Move office to Kita-ku, Nakasakanishi due to business expansion |
| June 2011 | Increase capital to 10,000,000Yen |
| November 2011 | Obtain ISO9001 certificate |
| January 2012 | Change organization from limited company to public company |
| October 2012 | Shodensha (Thailand) Co.,Ltd. is established. |
| November 2012 | Obtain ISO14001 certificate |
| October 2013 | Move office to Kita-ku, Banzaicho due to business expansion |
| October 2016 | Shodensha Vietnam Co., Ltd. is established in Ho Chi Minh Vietnam |