25MM FIXED FOCUS LENS (COMPATIBLE WITH 1INCH, 20MP) SM2520-MP20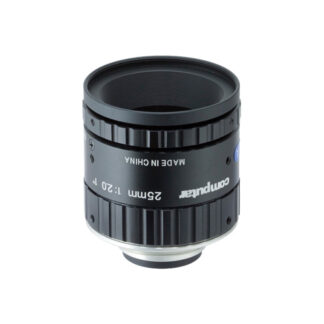 Compatible with 1 inch 20 million pixels!!!
High resolution fixed focus lens
●1 inch compatible
●Supports 20 million pixels
Product Inquiry
phone028-3911-2006
Specification
Model
SM0826-MP20
SM1226-MP20
SM1624-MP20
SM2520-MP20
SM3522-MP20
SM5024-MP20
Focal length
8mm
12mm
16mm
25mm
35mm
50mm
Aperture range
F2.6-F16
(With lock screw)
F2.6-F16
(With lock screw)
F2.4-F16
(With lock screw)
F2.0-F16
(With lock screw)
F2.2-F16
(With lock screw)
F2.4-F16
(With lock screw)
Mount

C mount

Compatible camera

1 inch

Horizontal / vertical angle of view
76.9°・
61.5°
56.7°・
44.1°
43.8°・
33.6°
28.8°・
21.8°
20.8°・
15.7°
14.6°・
11.0°
Distortion (At 1 inch)
-0.8%
0.0%
0.0%
0.0%
0.0%
0.0%
External dimensions
φ69.5×62.83mm
φ39×51.4mm
φ39.5×56.49mm
φ37.5×52.94mm
φ39.5×63.9mm
φ42×67.15mm
Weight
TBD
98.4g
TBD
73.1g
118.2g
138.5g
Closest Shooting distance
0.1m
0.1m
0.1m
0.15m
0.2m
0.2m
Filter screw
—
※Please contact us privately.
M37.5×0.5
M35.5×0.5
M35.5×0.5
M34x0.5
M30.5×0.5
Operating temperature limit

-20-+50℃

 

 

 

 
Introduction of useful options
x2 extender
RCS-20

 

By mounting the extender between the master lens and the camera, you can increase the shooting magnification without changing the focal length. However, the resolution and contrast will decrease.

※* Cannot be used at the same time with H0514-MP2 (low distortion type), M0814-MP2, EV0412MC, EV0612MC.
---
5mm close-up ring
CR-5

 

By attaching the close-up ring between the len and the camera, you can shorten the closest shooting distance and increase the magnification. However, the longer the ring length of the close-up ring, the darker it becomes. In addition, if the shooting distance becomes long, the focal length will not match.
Specification
General Specification
Model Number

SM2520-MP20
Inquire about this product
Business hour: 08:00 - 17:00
Closed on weekends & public holidays